THE CHALLENGES
Food production being pushed further out
Cities around the globe, especially large ones, are facing evergrowing risks to their food supply chain. Farming land around the edges of cities is being taken over by urban sprawl which paves over and pushes the arable land further away from the bulk of consumers. This adds longer food travel and bigger distribution centres as well as added cartage cost for farm inputs.
Climate extremes are making exposed food production unpredictable and ever vulnerable to all manner of reoccurring hardships like drought, fire, floods, unseasonal hail and snow. Such conditions may lower world production by 25% in the near future.
Greenhouse Gases overload in the Atmosphere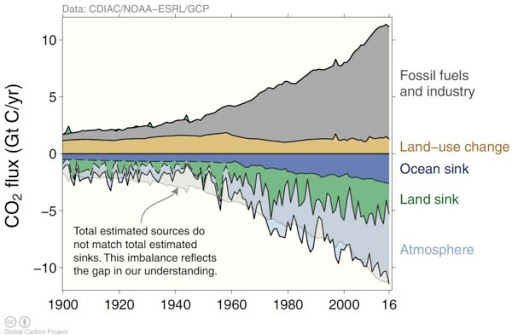 More carbon is stored in soil than in Earth's vegetation and atmosphere combined. Living soil has plentiful varieties of microbes that include bacteria, fungi, archaea, nematodes and protozoa.
UPSIDE SOLUTIONS
Indoor climate controlled environments are rapidly being implemented in future aware cities. This is where food can be grown horizontally and vertically in a variety of spaces made available within new or repurposed buildings like abandoned inner city warehouses. They can also be modulated and stackable like shipping containers.
DOWNSIDE
A drawback to wide adoption is the considerable upfront capital costs which includes the housing for the growing environment hand and the internal shelving structure to support the plants to be able to grow in the air. Additionally, many container farming solutions require high energy input from water reticulation, lighting and temperature control. Our future ready innovative farming concept is able to greatly reduce these prohibitive costs and ensure we can meet the demand requirements set for a smooth transition away from Global Food Supply Threats.
HOW WE DO IT
We fitout new and secondhand shipping containers with everything needed for vertical farming. They require minimal input of external water and energy to function so as to provide rich and profitable greens, herbs, vegetables and even fruits.
We can also make the system work well inside larger building spaces that don't involve shipping containers. These are ideally suited to high roofs and become dense food forests that grow larger plants like bananas and paw-paw. These can also be located in cities.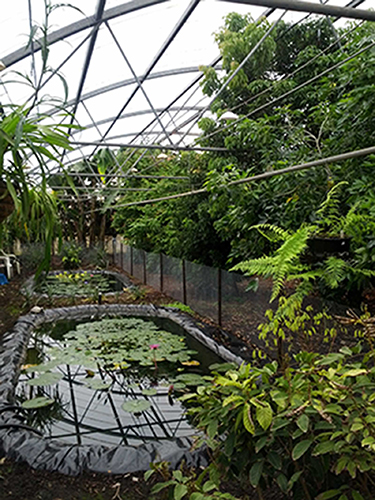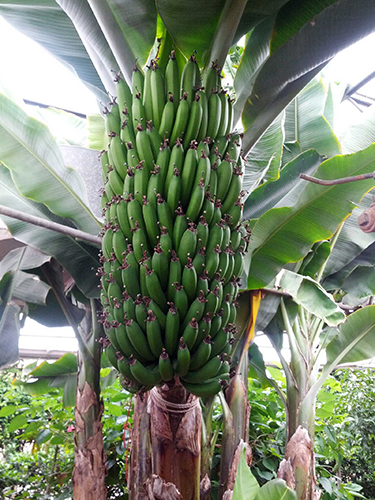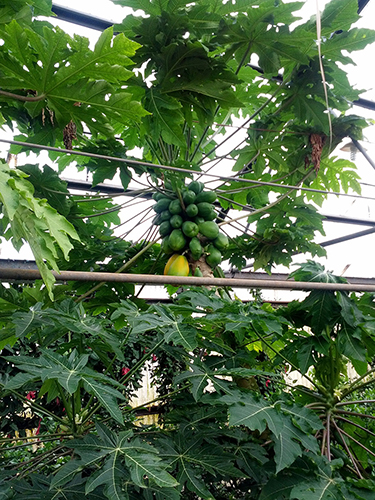 THE GROWING ENVIRONMENT
Our plants are growing in an enclosed environment, unaffected by outside climate conditions to ensure a stable, maximum outcome. The climate in the container is controllable via our own software to monitor and adapt temperature, moisture content, CO2, airflow and light. The plants benefit from adjusted light modifications to support the certain growth state. The light sources are sitting directly above the plant trays so that all units get the sufficient light spectrum. We can also modify our containers to certain plant needs and expand our product range by adapting the growing medium, temperature and other parameters.
To make our own rich soil, we developed a process to turn common subsoil into fertile organic hummus soil by adding a microbial inoculant.The high quality of our soil is satisfying the organic standards of Australia. We place the plants in shallow troughs filled with naturally derived water. The liquid plant food we use is a by-product of making our soil and provides an ideal feeding ground. When we harvest the plants for delivery to the customers, they stay in their soil to continue their life as long as possible. Since our containers can be placed in high proximity to residential areas, short delivery times also ensure the highest freshness and quality.
We are using a vertical, lightweight structure to support the plant trays. There are several rows designed to be movable so that we can make use of the maximum space while still leaving enough room for planting and harvesting. To make it even more cost-effective, our containers can be stacked to reduce the required space especially in big cities. We use proprietary technology to fulfil any power and water requirements so that our system doesn'trely on external supply. This significantly reduces the running costs of our concept compared to conventional farming methods as well as comparable vertical solutions.